Strategic Air Command Movies
This web makes extensive use of graphics. A great many are presented in context. Many are included in pages that explore a given subject. For examples, photos of a particular base or those dealing with an individual wing. Each of the aircraft and missiles has its own gallery. This gallery presents subjects with a much broader range.
| | |
| --- | --- |
| | |
| Bombers B-52 | Gathering of Eagles |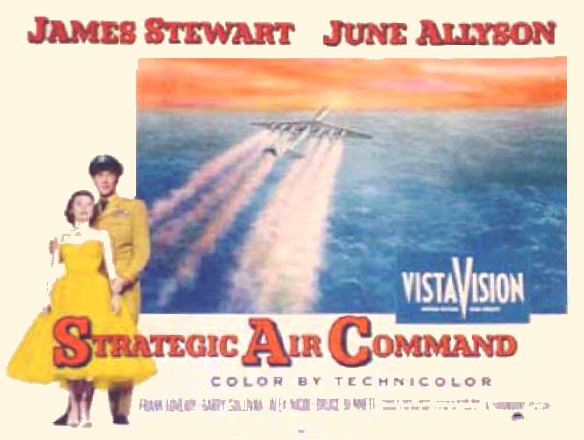 Strategic Air Command
There have been four movies made about the Strategic Air Command. The first was Strategic Air Command starring James Stewart and June Allyson. Stewart was a WWII bomber pilot, who later became a professional baseball player. In 1953, he is called back into service and stuck in SAC by its cigar-smoking commander. He soon flying B-36s, but is quickly introduced to the new B-47.
In Bombers B-52, Carl Maldin, who plays an aircraft maintenance sergeant. His daughter, Natalie Wood, falls for a handsome colonel, played by Efram Zembelist Jr., who Dad thinks is a worthless playboy. Yuck!
Wings of Eagles with Rock Hudson was made about ten years later. Hudson plays a colonel assigned to a wing that has just flunked two ORIs (Organizational Readiness Inspection). His job is to whip the wing into shape.
These movies were made in a age when Hollywood movie moguls felt that "war movies" had to appeal to the female audience, so what could have been great films, are primarily soap operas. In Strategic Air Command and Wings of Eagles, the hero has recently married and his poor neglected wife is a victim of SAC's relentless working of her man. It threatens to break up their marriage. But in the end, the bride comes to understand that SAC's mission is more important than anything else and her husband is a good man because he does his duty to serve his country. It should be noted that this was a very real issue. SAC had the highest divorce rate of all the military services.
All three of these movies have some good aerial footage, especially that of the B-36 in Strategic Air Command, but leave a great deal to be desired. All are available on video tape.
The most famous movie about SAC is Dr. Strangelove, which is covered on the next page. There have also been movies made about the Cold War, such as Fail Safe.