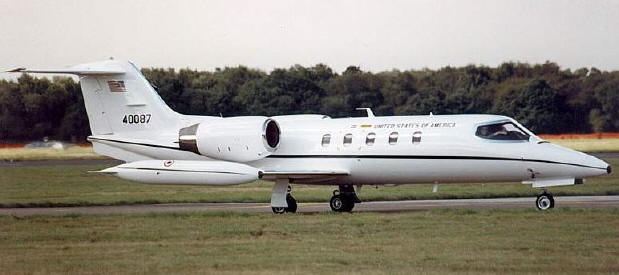 The C-21A is a twin turbofan engine aircraft used for cargo and passenger airlift. The aircraft is the military version of the Lear Jet 35A business jet. In addition to providing cargo and passenger airlift, the aircraft is capable of transporting litters during medical evacuations. The Air National Guard uses it to provide low-cost flying experience for pilots, enabling them to transition quickly to more complex weapon systems.
The C-21A can carry eight passengers and 42 cubic feet (1.26 cubic meters) of cargo. The fuel capacity of the C-21A is 931 gallons (3,537.8 liters) with refueling accomplished at ground level through each wingtip tank. The safety and operational capabilities of the C-21A are increased by the autopilot, color weather radar and tactical air navigation system, as well as high frequency, very high frequency and ultra high frequency radios.
The aircraft has a crew of two and may be flown from either cockpit seat. It is equipped with an automatic navigation system to enhance crew efficiency. Four cathode ray tubes display essential information to the pilots.
Delivery of the C-21A fleet began in April 1984 and was completed October 1985. Glasco, a subsidiary of Learjet, Inc., provides full contractor logistics support at 16 worldwide locations. On April 1, 1997, all continental U.S.-based C-21s were realigned under Air Mobility Command, with the 375th Airlift Wing at Scott Air Force Base, Ill., as the lead command. C-21s stationed outside the continental United States are assigned to the theater commanders.