Boeing C-17C Globemaster III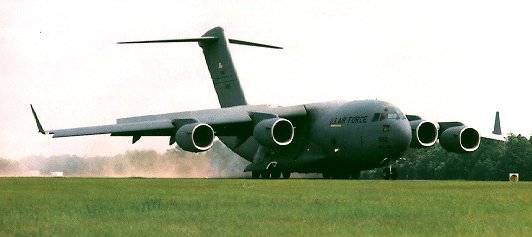 The C-17 is possibly the most flexible airlift aircraft to enter the Air Force inventory since the C-130 Hercules. The ultimate measure of airlift effectiveness is the ability to rapidly project and sustain an effective combat force close to a potential battle area. The Boeing C-17 Globemaster III is capable of rapid strategic delivery of troops and cargo to main operating bases, or directly to forward bases in the deployment area. The aircraft is also able to perform tactical airlift and airdrop missions when required. The inherent flexibility and performance characteristics of the C-17 force improves the ability of the total airlift system to fulfill the worldwide air mobility requirements of the United States.
Threats to U.S. interests have changed in recent years, and the size and weight of U.S. mechanized firepower and equipment have grown in response to the improved capabilities of potential adversaries. This trend has significantly increased air mobility requirements, particularly in the area of large or heavy outsized cargo. As a result, additional airlift is needed to meet potential armed contingencies, peacekeeping or humanitarian missions worldwide. The C-17 will fill the void left by the aging C-141B Starlifter, which is currently in its retirement phase out process.
The C-17 program was restructured in 1990 following the OSD Major Aircraft Review, reducing the planned buy from 210 to 120 aircraft. Since 1995, the fleet has amassed more than 250,000 flying hours. The C-17 has been involved in numerous contingency operations, including flying troops and equipment to Operation Joint Endeavor to support peacekeeping in Bosnia and Allied Force Operation in Kosovo. In 1998, eight C-17s completed the longest airdrop mission in history, flying more than 8,000 nautical miles from the United States to Central Asia, dropping troops and equipment after more than 19 hours in the air, a feat repeated in 2000.