| | |
| --- | --- |
| SAC Bases: Westover Air Force Base | |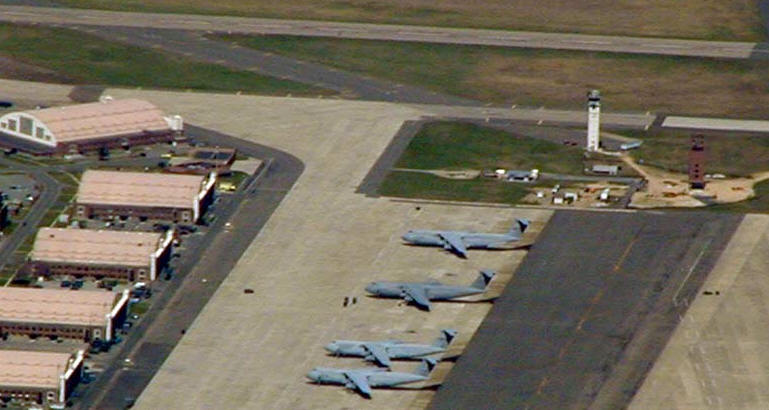 Westover is the largest Air Force Reserve base in the United States. Located on approximately 2500 acres of land within the communities of Chicopee and Ludlow, Westover resides within the Silvio O. Conte National Fish and Wildlife Refuge which covers the entire Connecticut River Valley. Westover is home to the 439 Airlift Wing operating and maintaining 16 C-5A Galaxy Aircraft, representing five percent of United States airlift capabilities. The 337th Airlift Squadron is the Wing's flying unit.
Westover ARB is home to reserve personnel who train one week-end per month as well as a 15-day annual tour. The base provides worldwide air movement of troops, supplies, equipment and medical patients. In addition, the Westover ARB personnel provide airdrop and combat off-load operations. Peacetime mission includes recruiting, training and supervision of personnel to ensure mission readiness. The base's 2-mile long main runway is an alternative landing site for the space shuttle.
Currently, 2,800 reservists are assigned to the wing at Westover. They train one weekend each month and also serve 15 days of annual tour each year. Westover is operated daily by a work force of about 1,200 civilians, including 500 Air Reserve Technicians. The U.S. military and Westover Air Reserve Base pumped more than $156 million into the economy of Western Massachusetts during fiscal year 2000 through salaries, purchases and new construction.
Westover has been in operation since 1940 and served as a bomber training base and port of embarkation / debarkation during World War II, as a staging point for the Berlin Airlift, a headquarters of the Military Airlift Command (MAC) system through 1955, and then as a major base of operations for the Strategic Air Command (SAC) until 1974. Since May 19, 1974 Westover has been an Air Force Reserve Base. From that time until October, 1987 the 439th Tactical Airlift Wing operated C-130 Hercules and C-123 Provider aircraft. The wing converted to C-5s in 1987 and the unit eventually became designated as the 439th Airlift Wing.
World War II
Westover Field was constructed as the premier Army air base for the northeast when United States preparations for entry into World War II were precipitated by the Nazi invasion of Poland in 1939. Up to then, the country had only seventeen unimproved and ill-maintained air bases. Chicopee's Mayor Anthony Stonina lobbied long and hard to get the Northeast base, arguing convincingly for the town's flat, open tobacco fields as a natural air field. Within two weeks of the Polish invasion, Chicopee was chosen for the Northeast Air Base.
President Roosevelt signed a $750,000 Works Progress Administration (WPA) project bill for the air base's construction in November 1939. Fourteen hundred WEA and Civilian Conservation Commission (CCC) workers cleared the land, and actual construction was started in February 1940. The Quartermaster Corps proved to be -unequal to the gigantic task of rapidly designing and building hundreds of military installations across the country, so to ease their burden, the Corps of Engineers was given all Army Air Corps work in November of 1940. Since the Constructing Quartermaster had already planned the base, the first permanent masonry buildings were constructed to those designs, which were intended to be lasting and attractive. In fact, it is these buildings which have survived, while of the hundreds of temporary buildings later constructed to meet the tremendous needs of the war mobilization by the Corps of Engineers only a few remain.
On April 6, 1940, "Army Day" nationwide, the dedication, flag raising and ground breaking ceremony was held on site. The new air base was named for Major General Oscar Westover, Chief of the Air Corps, US Army, who had died piloting his own plane in September 1939. Building at the base was constant throughout 1941. At first, the base had been planned to accommodate 1,400 men as an airplane overhaul facility, but by 1940 this had been increased to 3,000 men. At the start of 1942 there was housing for approximately 3,300 enlisted and 500 officers, and at the close of that year there were quarters for about 8,000 officers and men. All but a few of these temporary buildings are now gone.
The first organization at the base was the 10th Signal Platoon that began working in June 1940. The first Air Corps arrived in July. Throughout 1941 many organizations passed through being activated and deactivated. For a brief time the all-black 369th Antiaircraft Coast Artillery Regiment, known as "Harlem's Finest" was stationed here. In 1942 Westover Field became the training center for anti-submarine, engineering, chemical platoons, bomber and fighter groups. The following year training mainly focused on fighter groups and anti-submarine combat units, and in the fall of 1943 the base's main mission shifted from fighter training to training heavy bomb groups.
Post War - Air Transport Command
As victory in Europe was achieved, crews were brought back to be trained for re-deployment to the Pacific. At the end of die war troops were prepared for inactivation, and in February of 1946 Westover became an Air Transport Command base which meant that it was the terminus for air routes around the world: C-54 and 47 transport planes took supplies and reinforcements to the armed forces and returned with the wounded and discharged troops. Westover was also the launching point of the heroic Berlin airlift for 327 days during the Russian blockade. Altogether 276,926 flights by C-47s and C-54s were flown, bringing an average of one ton of supplies and food to each Berlin resident. Chicopee schoolchildren responded to the plight of German children and organized "Operation Little Vittles" sending ten tons of candy attached to handkerchief parachutes which were dropped from the air
Detonation in August of 1949 by the Russians of a radioactive nuclear device spawned a new strategy in the military, calling for massive retaliation in the event of an attack. General Curtis LeMay carried the strategy to its furthest conclusion: the military had to carry out a pre-emptive attack if it became clear that there were preparations for nuclear attack by an enemy in progress. This strategy was to be made manifest through the Strategic Air Command (SAC). Meanwhile, Westover took part in the Korean conflict transporting freight and passengers to the forces in Korea, and casualties were brought to the Westover Hospital from 1950 to 1954.
Strategic Air Command
In 1955 the Strategic Air Command, the creation of Curtis LeMay, came to Westover with activation of the 4050th Air Refueling Wing and the Eighth Air Force head-quarters. The 99th Bomb Wing kept bombers and tankers on ground alert at all times, and SAC crews lived on 24 hour alert for two weeks at a time. In case of nuclear war, an alternate SAC command bunker, called "The Notch", was constructed deep within Mt. Holyoke. Nuclear weapons were stored at the Stony Brook section of the base and planes loaded with these devices were kept on the ground ready to take off at a moment's notice.
SAC operations began at Westover in 1955 and the 1959 "mole hole," building 7450, was the first building erected as part of the SAC massive retaliation strategy. Here was where long-range B-52 bombers armed with nuclear devices were kept on continuous alert on a nearby runway, known as the Christmas Tree. Their crews rotated through the mole hole, spending one week of 24-hour alert in underground quarters going everywhere together during that week so they were always ready for launch in a few moments. The lower control room was outfitted for SAC operations in case of nuclear war.
The facility was a major base of operations for the Strategic Air Command (SAC) from 1955 until 1974. The 99th Bombardment Wing moved from Fairchild AFB, WA to Westover AFB in late 1956, and began operation of the B-52. SAC operations ended in 1973 when the Wing was inactivated. The 348th Bomb Squadron operated the B-52 from December of 1956 through April of 1972 while assigned to the 99th Bombardment Wing at Westover AFB. On 11 November 1957 a KC-135 tanker piloted by Gen. Curtis LeMay flew 6,350 miles from Westover AFB to Buenos Aires in 13 hours 2 minutes, a world record for nonstop nonrefueled jet flight.
The Target Intelligence Training Building [Building 1875] was constructed in 1957 during the Strategic Air Command years at Westover base. The Corps of Engineers in Boston oversaw its construction to designs by McClintock & Craig Engineers and Architects of Springfield. It was designated as Target Intelligence Training Building for the Reconnaissance Technical forces in 1957, but its functions were always highly secret. What is known is that this was one of four photographic labs on the base during the SAC era, processing film secretly made by U-2 airplanes. The quantity of film taken was so great that another building on base operated primarily as a silver recovery facility. Original drawings of Building 1875 indicated rooms for radar bomb training, se-cure storage, predictions, mission support and operational intelligence maps. Here also were Link Trainers that simulated aircraft for training purposes.
Photography which had always been an important military activity was now a critical activity for SAC. Film made on high-speed spy planes over enemy land was developed and translated to maps in Buildings 1900 and 1875. The climax came in 1962 when Russian missiles were being installed in Cuba. The Cuban missile crisis was in large part played out at Westover where U-2 film of the Russian trawler approaching Cuba was developed.
In 1967, SAC crews were sent to Vietnam on B-52 bombing missions and anti-war activists began protesting the war on a daily basis at Westover's main gate. President Nixon ordered the deactivation of the Eighth Air Force in 1970, although the 99th Bomb Wing continued its missions into Vietnam. Many American prisoners of war returned from Vietnam through Westover, but when this operation ended in 1973 the base was in part sold off and in 1974 the remainder was turned over to the Air Force Reserve.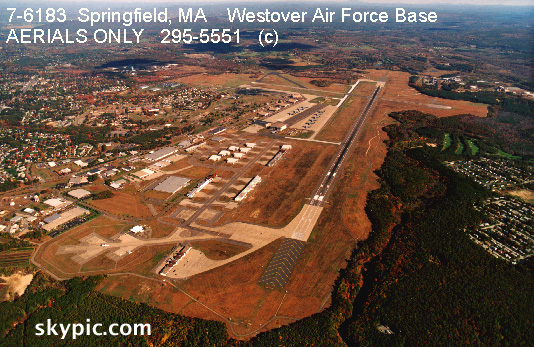 Air Force Reserve
Since 19 May 1974 Westover has been an Air Force Reserve Base. From that time until October, 1987 the 439th Tactical Airlift Wing operated C-130 Hercules and C-123 Provider aircraft. The wing converted to C-5s in 1987 and the unit eventually became designated as the 439th Airlift Wing. Westover continues to operate as the world's largest Air Reserve Base and as Tactical Wing, and is one of the country's two centers for Galaxy C-5A military transport aircraft. Between March and July of 1991, soldiers returning from the Gulf War landed at Westover where they were met by their families and friends.
On July 30, 2002, the old air traffic control tower at Westover ARB was destroyed using five earthmovers to pull down the 40-year-old building. Destruction of the tower followed the completion of a new 10-story, $4.1 million facility that rises 123 feet above the airfield, providing 100 percent visibility of the field as well as 21st century air traffic control equipment.
The 99th Bombardment Wing (H) flew out of Westover AFB, MA from 1956 through 1974.